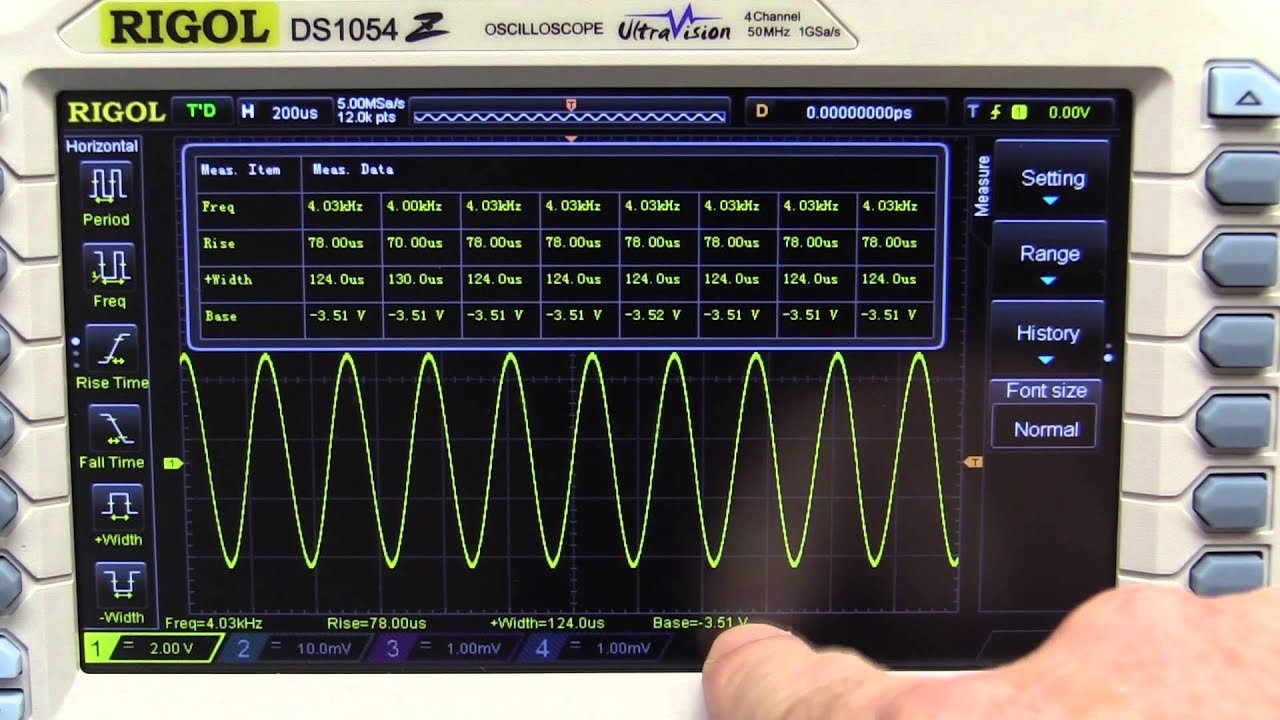 Introduction
The Rigol DS1054Z is one of the most popular entry-level oscilloscopes available. With four channels, a bandwidth of 100 MHz, several built-in mathematical functions and a 7" high resolution screen for under $400, it may just be the best bang for your buck oscilloscope. Let's take a look at the Rigol DS1054Z digital oscilloscope in more details.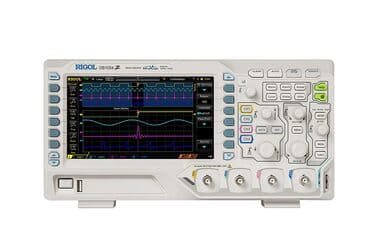 Rigol DS1054Z Oscilloscope Overview
Oscilloscopes are used to analyze electrical signals by both professionals and amateurs alike whose feature requirements will range, depending on their needs. It only makes sense that the prices of oscilloscopes range as well, depending primarily, on the bandwidth of the oscilloscope.
Oscilloscopes used by professionals in product development and research in electronic labs cost tens of thousands of dollars and usually purchased via authorized dealerships.
In all likelihood, you don't need an oscilloscope with 1 GHz of bandwidth, for example, and a ton of other features. You may be an everyday user, student, or hobbyist who only needs a 2 – 4 channel oscilloscope with a bandwidth of 100 MHz.
Perhaps more importantly, you don't want to spend more than a few hundred dollars. If so, then this Rigol DS1054Z digital oscilloscope is a great entry-level and affordable option that should satisfy all of your requirements.
And given its popularity, there is a ton of support on forums and on Youtube to help get you started as well as troubleshoot common issues you may run into.
Display
It has a beautiful and intuitive 800 x 480 resolution fast updating 7" screen that's very intuitive. For example, you can easily tell whether or not you're in trigger mode, the horizontal and vertical time bases will either be highlighted or not; ditto for the sample rate and memory depth.
With 64 shaded levels, its high intensity graded display allows you to see waveforms in great detail, up to 30K waveforms per second in either normal, peak and high resolution mode.
At a more fundamental level, the screen's brightness and contrast can be adjusted for optimal viewing depending on your light conditions – aka very sunny and bright or dark interior settings.
Channels
The Rigol DS1054Z has four channels, which is great for those who know how to take advantage of the o-scopes' full potential, for example. However, it doesn't have an auto detect probe interface so you'll have to manually adjust the scope in order yo use the probes with different ranges.
Bandwidth
The Rigol DS1054Z has a 50 MHz bandwith, 1 gig sample per second for a single channel. If you use another channel, however, this bandwith is cut in half. Add a 3rd or 4th channel and the bandwidth is reduced even further all the way down to 250 meg samples per second.
That said, the bandwidth on the Rigol DS 1054Z can be doubled as it is (relatively) easy to hack and there are a number of articles and short videos that will step you through the process.
Memory
The memory depth range on the DS1054Z scope is solid, from 12  to 24 Mpoints. This should be sufficient for most applications, but again, it starts to decline once you have all four channels turned on.
Ask yourself whether you need all four channels turned on. If so, you may need to invest in a higher end model.
Operation and Performance
This is a fairly small and compact scope, but it has a sturdy design. The buttons for example are sensitive and pretty responsive.
The screen features tooltip like functionality as it has big green help buttons that explain what each function can is used for.
It has a number of built-in mathematical operators, and you can potentially outsource some of your data analysis and gathering, FFT for example, to your PC 's CPU via a USB connection to your o-scope.
It has trigger out and pass/fail output, serial and trigger decoding capabilities, a good range of measurement and statistic capabilities, and a USB host to store your waveforms via screen captures for further analysis.
Inputs (USB)
As mentioned, there's a USB port on the front so you can connect it to a laptop. You'll need to install some software, which isn't great but there are some 3rd party alternatives you can look into.
Maintenance & Durability
If you buy via Amazon, you're of course protected by their return policy. You also get the longer term protection of the warranty on the oscilloscope to provide you with replacement parts or repairs.
Disadvantages
As for downsides, there aren't many and it's hard to complain for oscilloscope in this price range, but there are a few.
The fan/ventialtor can be somewhat loud, particularly in very quiet environments.
The UI is intuitive and easy to read, but some menu options are a bit convoluted.
There's a bit of a lag in the UI.
Specifications at a Glance
7" screen with 800 X 480 px resolution.
Bandwidth: 50 MHz or 100 MHz, depending on model. Hackable to 100 and 200 MHz respectively.
4 Channels
Memory Depth: 12 Mpts upgradable to 24 Mpts
Sampling rate: 1G Sa/sec
Waveform capture rate: Up to 30L waveforms/s
FFT and built-in mathematical operators
Triggers, Storage and more!
All the necessary mathematical operators, Horizontal and Vertical measurement functions arranged neatly on the sides of the screen.
See manual here for more
How to Hack & Upgrade the Rigol DS1054Z Oscilloscope
Bottom Line
This is a great value oscilloscope with all the features one can ask for in this price range: four channels, up to 200 MHz bandwidth, a solid UI and 7" screen. Moreover, the reviews online speak for themselves.
With its advanced triggering capabilities, waveform analysis tools, and extensive connectivity options including USB and LAN, this oscilloscope offers endless possibilities for experimentation and analysis.
Whether you're a hobbyist, student, or professional engineer, Rigol DS1054Z helps you to explore the world of electronics with confidence and precision.