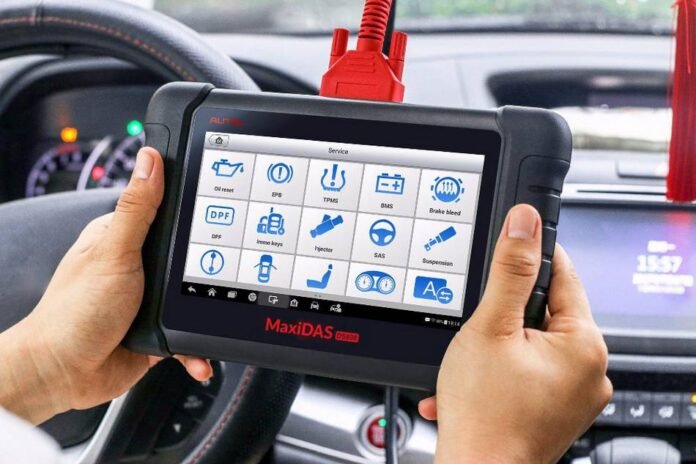 Are you looking for the best Autel scanner? You have come to the right place!
In this article, we will look at some of the Autel bidirectional scanners available in 2023. We will also let you know their features to help you make a well-informed decision when purchasing the best Autel scanner.
Without further ado, let's get started!
What are Autel Scanners?
Autel is a well-renowned company that produces user-friendly and widely available vehicle diagnostic equipment or scanners. These scanners are easy to operate; anyone from a simple mechanic to a professional can use them.
Autel scanners are like magic gadgets for a car that help figure out the car's problem and help in maintenance as well. When a component or system is prone to error, it signals the cause of the error on the scanner. The user-friendly interface retrieves engine, transmission, ABS, airbag, and other system information.
In 2023, they released new scanners that provide a detailed understanding of a vehicle's health and performance.
10 Best Autel Scanners We Recommend
So which Autel scanner is the best? Check out the list of the ten scanners from Autel and find out which might suit you.
Autel MaxiCOM MK 906 BT
(Best Autel Scanner for Professionals)
Autel MaxiCOM MK 906 BT is the best Autel scanner for professionals. Professional mechanics love this scanner as it helps in the complete scan of vehicles, such as checking the engine, TMPS, SRS, ABS, and also perform OB level diagnostic to read/erase DTCs.
Features
Autel MaxiCOM MK 906 BT has full capabilities of codes, action tests, coding, adaptation, matching, and live data,
The scanner consists of Auto VIN technology, which identifies vehicles, models, make, and year information.
It has complete system coverage of over 80 cars made in Asia, the USA, and Europe.
Get instant support anytime, anywhere via control tech.
Cloud-based features provide detailed information on field fixes, repair, and diagnostic tips.
Autel MaxiCOM MK808S-TS
(Best Autel Scanner for Home Mechanics)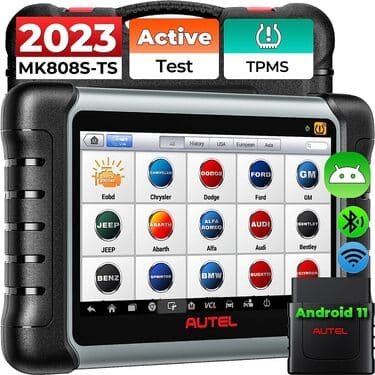 MaxiCOM MK808S is one of the best Autel bidirectional scanners you can purchase on Amazon. It is an advanced diagnostic tool with fast DTC reading and clearing capabilities for most makes and models. MaxiCOM MK808S also has special functions like Oil Reset, EPB, SAS, and BMS, and can perform comprehensive TPMS services. It is highly recommended for serious mechanics.
Features
The ROCKCHIP CPU offers lightning-fast diagnostic processing speeds for efficient issue diagnosis and an Active Test feature to test and verify car actuator functionality.
Complete TPMS diagnosis and retrofitting services are available for vehicles without factory-fitted TPMS, including sensor activation, programming, diagnostics, and retrofitting.
In-depth diagnostics similar to Snap-on scanners provide OE-level full-system coverage of various car systems like TCM, ECM, EPS, PDM, BCM, and more.
The AutoAuth feature enables diagnosis without the need for a bypass cable for FCA cars post-2018, enhancing convenience and compatibility.
Autel MaxiCOM MK908 Pro II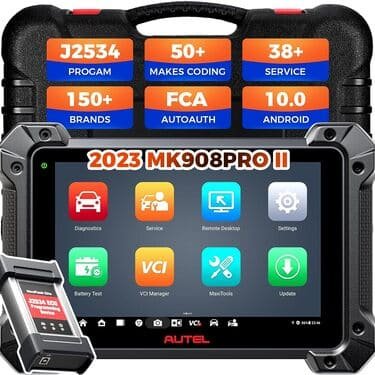 The Autel MaxiCOM MK 908 Pro II is a powerful diagnostic tablet with a 10.1-inch touchscreen and an Octa-core processor. It can read and erase codes, perform bi-directional active tests, view freeze frames and live data in graphical format, and perform adaptations and coding on a wide range of vehicles from 1996 and onwards.
Features
The MaxiFlash VCI/J2534 programming device is a tool used for vehicle programming and diagnostics.
Equipped with Bluetooth and running on Android 10.0 OS, it offers wireless connectivity and a modern operating system.
It can read and erase trouble codes from various systems within the vehicle.
This device enables users to observe freeze frames (snapshots of data at the time of a fault) and live data graphs for real-time analysis.
The tool supports bi-directional active tests, allowing actions to be taken and tested within the vehicle's systems.
It is capable of performing coding (changing vehicle software parameters) and adaptations (adjusting system components to match desired specifications).
Autel Scanner MP808S-TS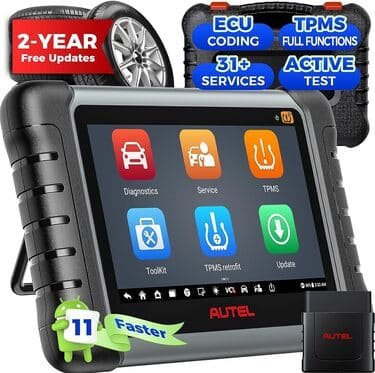 MaxiPRO MP808S-TS is an affordable scanner that can read and clear DTCs for most makes and models. It also offers special functions such as Oil Reset, EPB, SAS, BMS, and TPMS services.
Features
This scanner scans and diagnoses various systems within a vehicle, providing advanced troubleshooting capabilities.
The scanner has a fast processor for quick diagnostic task processing.
This scanner is able to diagnose vehicles made in the United States, Asia, and Europe from 1996 onwards.
The tool provides TPMS services for most cars with TPMS functionality.
It provides extensive coverage of original equipment-level diagnostics for all electronic systems within a vehicle.
Autel TPMS Relearn Tool TS408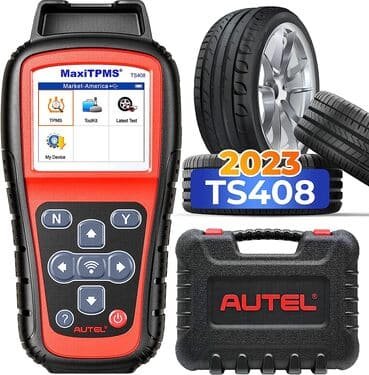 The MaxiTPMS TS408 Autel scanner is a handheld tool that can activate and read sensor IDs, battery life, tire pressure, and temperature.
It can also set up MX-Sensors to replace original car sensors and guide through TPMS relearn steps on the screen for all TPMS-equipped vehicles. This means it makes TPMS maintenance simpler for users.
Features
The Autel TPMS Relearn tool can access and activate all sensors present in a vehicle.
It gives clear instructions to reprogram sensors according to the type of vehicle.
MX-Sensors can be programmed exclusively through the scanner.
You can update software for life and have a year's warranty in case of damage.
Autel MaxiSys MS906 Pro
(Best Autel Scanner for Automotive Shop)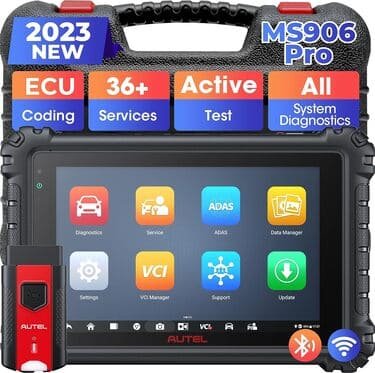 Autel's MaxiSys model number MS 906 Pro is one of the most demanded auto scanners with the ability to view live data and free frame and the ability to read or erase codes.
This scanner is compatible with vehicles established after 1993 in the USA, Europe, or Asia.
Features
Autel MaxiSys MS906 Pro provides step-by-step guides to solve any vehicle-related issues.
Autel MS906Pro scanner links ECUs for vehicle diagnosis, repairs, and coding.
Supports 150+ vehicle brands' services for maintenance.
Supports various vehicle brands like VW, Audi, Skoda, Seat, and Bentley for diagnostics and repairs.
Autel MaxiSys Elite II Scanner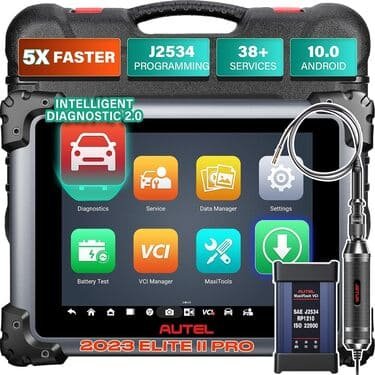 The MaxiSys Elite II is the ultimate tool for vehicle diagnostics and advanced ECU programming, offering lightning-fast performance that is 2x faster than comparable devices. With extended battery life and intelligent power savings, this device is designed to handle any job efficiently.
Features
Comprehensive Coverage: Covers over 80 US domestic, Asian, and European makes and models.
Advanced Functionality: Offers complete OBDII diagnostics, services, advanced ECU coding, and programming.
Integrated Programming: Capable of working with SAE J2534-1 & -2 compliant pass-thru interface.
Real-time Updates: Receives automatic system and software updates with push message notifications.
Enhanced Features: Provides technical service bulletin search, guided procedures with DTC analysis, and fault code solutions.
Remote Tech Support: Access instant remote control tech support anytime.
Interactive Data Logging: Engage in troubleshooting with Autel Support through interactive data logging sessions.
Autel MaxiAP AP200
(Best Autel Scanner for DIYers)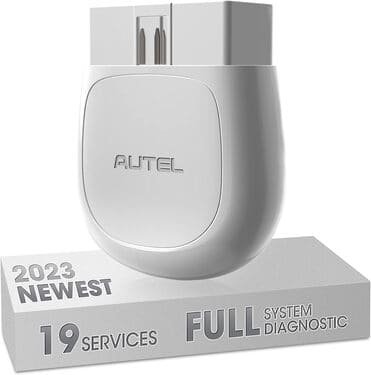 Autel Maxi AP AP200 is another very effective diagnostic tool that uses the Vehicle's DLC and your Android or IOS device for vehicle data transmission. This scanner is for mechanics or vehicle owners who like to check their vehicles themselves without spending much time.
Features
Access and utilize all essential OBDII diagnostic functions without any extra cost.
The scanner helps perform various tasks like oil reset, electronic parking brake release, battery management system reset, steering angle sensor calibration, diesel particulate filter regeneration, etc.
You can also purchase other features via the app and enhance the range of supported vehicle models and systems.
This Autel scanner generates detailed vehicle diagnostic reports as PDF files for easy sharing.
Autel AutoLink AL529 HD
(Best Autel Scanner for the Money)
This AutoLINK is the best Autel scanner for the money mainly because of its low price but effective features. It is a scanner for heavy-duty vehicles that can handle classes 1 through 9 (0-33,000 LBS) and offers support for erasing and reading engine DTCS. It is fully compatible with two heavy-duty protocols and can graph, record, and playback live data and display live and freeze-frame data.
Features
The AutoLink AL529HD is your trusted companion for handling engine problems in heavy-duty vehicles.
It includes handy Deutsch 9- and 6-Pin Adapters, ensuring compatibility.
With support for J1939 and J1708 HD Protocols, it's a breeze to diagnose issues.
It is not limited to heavy-duty engines; it covers all 10 OBDII Test Modes, making it versatile and comprehensive.
It reads and clears Engine Trouble Codes for Class 1 to 9 commercial vehicles.
The One-Touch I/M Readiness and LED Indicator keep you informed about your vehicle's status.
Enjoy lifetime software updates throughout the tool's life and a solid 1-year warranty.
Autel Autolink AL319
The Autel AutoLink L 319 is one of the most affordable scanners. It features a One-Click I/M Readiness Key, a TFT color display, and a built-in speaker, allowing users to verify repairs, check State Emission Monitor Status, and solve basic engine and driveability issues. The color-coded LEDs, audible tone, and dynamic all-in-one I/M readiness status notifications eliminate drive cycle guesswork.
Features
The scanner is best for vehicles from 1996 and newer.
It quickly identifies the source of the Malfunction Indicator Light (MIL).
It consists of bright, color-coded LEDs and a built-in speaker that provides both visual and audible indications for readiness verification.
It shows if a vehicle's emission control system is ready for testing.
It has a feature, "Multilingual Menu and DTC Definitions," which offers explanations for diagnostic trouble codes in English, Spanish, and French.
Comparison Table of the Best Autel Scanners
Out of the ten Autel scanners we have reviewed above, we have selected the top five scanners to create a comparison table. The purpose of this table is to demonstrate which scanner is best suited for specific needs and highlight its main features. Please take a look below:
| | | | |
| --- | --- | --- | --- |
| | Product | Best For | Main Features |
| 1. | Autel MaxiCOM MK 906 BT | Professionals | Full capabilities of codes, action tests, coding, adaptation, matching, and live data. |
| 2. | Autel AutoLink AL529 HD | On Budget | ABS, SRS, engine, and transmission diagnostics; VIN, CALID, and CVN identification |
| 3. | Autel MaxiCOM MK808S-TS | Home Mechanics | OE-level system coverage for electronic systems and Bi-directional active tests |
| 4. | Autel MaxiSys MS906 Pro | Automotive Shop | Live data viewing and freeze frame; Maintenance services across 150+ vehicle brands |
| 5. | Autel Maxi AP AP200 | DIYers | Data transmission via Android/IOS device and vehicle's DLC; App integration & PDF report sharing |
Factors to Consider When Choosing the Best Autel Scanner
Before buying an Autel scanner, it is important to know what factors must be considered, as there are many options in the market. Here are some factors to consider when buying the best Autel scanner.
Vehicle Compatibility
Before choosing a scanner, it is essential to be sure it is compatible with your vehicle, especially its model. Generally, there will be no problem as most vehicles support many scanners, but there is no downside to being assured.
Features and Coverages
When selecting an Autel scanner, ensure it can diagnose and service the specific systems and modules in the vehicle.
Check Diagnostic Functions
You must consider your diagnostic needs and choose an Autel scanner with the appropriate level of diagnostic capabilities, including reading and clearing DTCs, accessing live data streams, performing system tests, and programming modules.
User Interface
A user-friendly interface can make a significant difference in your experience with the scanner. Look for a scanner with an intuitive menu structure, easy navigation, and a clear display.
Update and Support
Regularly updating your scanner is important to stay up to date with the latest vehicle models and diagnostics. It is essential to talk with your car manufacturer about their updated policy and ongoing support to avoid any mix-up.
Wireless Connectivity
Make sure to check that your scanner has wireless connectivity via Wi-Fi or Bluetooth, as it offers convenient and mobile diagnostic capabilities.
Data Logging and Recording
The ability to record and log diagnostic data can help track vehicle performance over time and diagnose intermittent issues.
Check Different Reviews
Reading reviews from other users can provide insight into specific Autel scanner models. If a scanner has positive reviews and a good reputation from other users, it will likely be a reliable product.
Conclusion
Autel Scanners has been recognized as one of the best scanner models in the market. These scanners are known for the analysis and detection of vehicle-related issues.
So, when it comes to picking the best Autel scanner for you, it's important to think about what kind of car troubleshooting you'll be doing, how much you're willing to spend, and the special features you want.
Now that you've got all the info from this article, we hope you're all set to make a smart choice and get the best Autel scanner to help you whenever you work on cars.