Hantek oscilloscopes are one of the best and most popular on the market. This brand has been making USB oscilloscopes since 1999.
The Hantek DSO5102P, for example, is a popular choice among beginners due to its ease of use and (relatively) low price point.
Today, we are going to look at three Hantek oscilloscope models across three different price points targeted beginner to advanced users.
Hantek DSO5102P
(Best All Around Oscilloscope)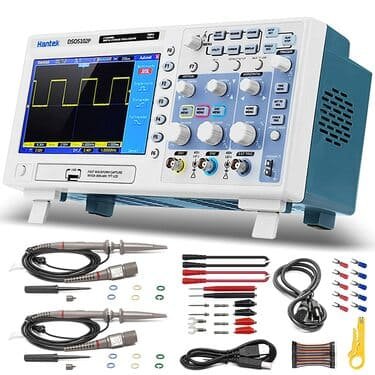 First off, the display on this dual channel oscilloscope is beautiful. Again, it has the 7" color display and it's certainly easy on the eyes and helps you hone in precisely on measurement of various signals.
Some of the Hantek DSO5102P Oscilloscope notable features include:
Bandwidth of 100MHz
Sample rate: 1G Samples per second.
7" high resolution (800 x 480) color display
Record length: up to 40K
Trigger mode: edge/pulse width/line selectable video/slop/overtime etc.
Standard USB connectivity for printing and storing signals to your laptop
Built-in mathematical functions: scale adjustment, trigger, FFT algorithm, horizontal and vertical alignment.
Additional software for further detailed analysis.
It's shipped with a 1 KHz square probe for standard calibration
It has easy button operation for measurement of various statistical properties such as the mean, frequency peak voltage etc…Furthermore, you can of course measure the voltage and time intervals.
It's designed to be used as a bench oscilloscope but its light enough to be handheld if absolutely necessary.
It's also fairly intuitive and even newbies will be able to navigate the menu and get up to speed within an hour or so. Not to mention, there are many resources available online for Hantek oscilloscopes as they are very popular.
Bottom line: This is a great all around entry-level oscilloscope that has all the features and capabilities one would expect at this price point. It may not be suitable for professionals with demanding specification bandwidth requirements, however, who may need to invest in a higher (more expensive) model.
Hantek DSO5202BM 200 MHz
(Most Powerful Oscilloscope)
This oscilloscope has more features than most entry level users need and is for users with more advanced requirements who need oscilloscopes equipped with high bandwidth and memory depth.
This is the powerful deep memory 200 mhz Hantek DSO5202BM Oscilloscope. Let's look at its features at a glance:
1 GSa/s real time sampling rate.
7 inch color display
2M memory
Bandwidth: 200MHz
4 math functions including built in FFT.
USB connectivity to your laptop.
Multiple trigger modes
It can be used either as a bench workstation unit or on the go as well since it is lightweight.
What's notable about this oscilloscope is deep memory capabilities that allow the DSO5202BM to measure longer signals and at higher sampling rates for precise waveform analysis.
Operation is powerful and precise as it has multi-functional knobs, help methods, shortcut keys and loads of documentation to support you along the way.
Bottom line: The DSO5202BM 200 MHz oscilloscope has all the power and capabilities required for most demanding professionals, but at over $450, it's certainly the most expensive oscilloscope on this list.
Hantek 6082BE USB
(Best Inexpensive Oscilloscope)
Lastly, we have the dual channel Hantek 80MHz USB digital oscilloscope
This is a surprisingly affordable oscilloscope that is suitable for engineers and students alike. Its notable features and specifications include:
Bandwidth: 80 MHz
Trigger Mode: Automatic, Manual, and Single
USB connectivity to your PC monitor for improved display
Twenty three measurement functions
250MSa/S sampling rate (while in single channel mode)
This is perfect for those who need a fairly powerful oscilloscope at an affordable price point. The ability to connect it to your PC via USB is what set this oscilloscope part to begin with and for good reason. Having the ability to analyze waveforms on a larger screen is of tremendous value.
Bottom line: With its high sampling rate, 80 MHz bandwidth, this oscilloscope provides a good bang for your buck.
Conclusion
After reviewing these three Hantek oscilloscopes, it is clear that Hantek continues to offer reliable and feature-rich options for both hobbyists and professionals alike. These oscilloscopes provide impressive performance, have user-friendly interfaces, and a range of functionalities that make them suitable for various applications.
Whether you're seeking a portable USB oscilloscope or a benchtop solution with higher bandwidth, Hantek provides options that deliver accurate measurements and reliable results. With their commitment to quality and innovation, Hantek oscilloscopes are indeed a worthy investment for anyone in need of reliable and versatile testing equipment.